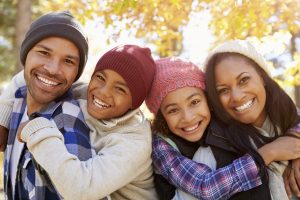 There is just something about the Autumn that makes the world a happier place. It could be the smell of pumpkin spice everywhere we turn or the chilly weather that makes us want to bundle up and crave a piping hot cup of hot chocolate. Not only that, but the autumn season starts the beginning of the holiday season, which means plenty of photo ops. Unfortunately, a lot of our diet consists of teeth-staining foods. Luckily there are plenty of foods that not only keep us healthy, but also brightens our smile for those holiday selfies:
What is more autumn than apples? The crispiness of the apple is what is doing most of the work for your smile. As you bite into an apple, you are strengthening your gums. And the juiciness of the apple produces saliva, which rinses our mouths of cavity-forming bacteria.
Broccoli is a veggie that is present in lots of warm comfort foods, but it is also Mother Nature's toothbrush. Munching on these little "brushes" will not only supply your body with iron but gives your teeth a quick scrub. Carrots and celery are the next in this line of veggies, so stews are perfect for our smiles and the season. All great vitamins packed inside, and the high-water content is great for saliva production. And if you think about it, celery is like nature's floss.
Dairy is chockful of calcium, foods like milk, yogurt and cheese strengthen your teeth and gums. The stronger your teeth enamel is, the whiter & healthier they become.
If you would like more information about healthy foods for your smile, call Dr. Greg J. Herd in Rancho Santa Margarita, CA at 949-858-5147 or visit www.gregherddds.com.
Dr. Herd proudly serves Rancho Santa Margarita and all surrounding areas.