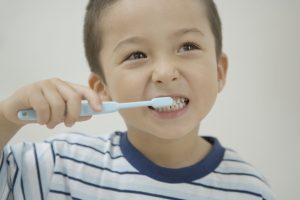 Brushing our teeth has long been touted as an important part of oral health. Using a toothbrush, a very simple personal hygiene tool found in every household, we've come to make a habit of using it more than twice a day. But have you ever thought about how it came to be? February is National Children's Dental Health Month, so while you are teaching your little one to brush their teeth, teach them a little history of the toothbrush:
Ancient Egyptians are widely regarded as the first group of people to use a toothbrush, constructing one made of twigs and leaves to clean their teeth. By the 15th century, the Chinese had begun using a toothbrush that closely resembles what we use today. A century later, English noblemen and privileged families began using toothbrushes made out of silver.
William Addis would then go on to invent what's widely considered as the first modern toothbrush in 1780 while in prison. It's believed that the idea came about while watching how the floors were swept clean using a brush. He'd then fashion the toothbrush using a bone and bristles he had obtained from
the guard and went on to make a fortune once released.
The design of the toothbrush would then be refined over time and in 1938, soft-bristles toothbrushes were invented. Soon enough, companies such as Oral-B would begin mass producing soft-bristled toothbrushes.
Innovation still has not left toothbrushes and up to this day, the design and the bristles are still being refined to better meet modern needs, including the development of toothbrushes made of recyclable materials.
If you would like more information about pediatric dental hygiene, call Dr. Greg J. Herd in Rancho Santa Margarita, CA at 949-858-5147 or visit www.gregherddds.com.
Dr. Herd proudly serves Rancho Santa Margarita and all surrounding areas.