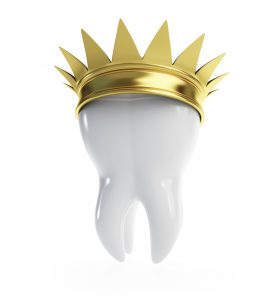 It is always a bummer when you have a tooth break on you, whether it be an injury you suffered from or your incessant need to munch on ice, or your tooth got chipped or damaged and your dentist suggests getting a crown. Dental crowns can be both an effective and attractive option for individuals who regard their teeth to be an inhibition. But moreover, dental crowns can cover a large filling or help support a dental bridge. Need more reason? Here are some of the main advantages:
Natural looking. Both porcelain and composite dental crowns have the look and feel of natural teeth, so don't worry about people noticing. It may be cosmetic, but no one needs to know that.
Durable. Crowns are there to last a while. In fact, they can last up to fifteen years depending on their care. Not only are they durable, but they are also stain-resistant. Porcelain is a great surface to restore teeth and not having to worry about coffee stains is a thing of the past.
Stable. Dental crowns are cemented or anchored in place, so unlike dentures, dental crowns won't slip and slide around in your mouth. This not only keeps you from being self-conscious about your dental work, but it will prevent further infection and/or decay after the surgery.
Speech improvements. We may not automatically correlate the two, but missing teeth and dentures can affect speech. Dental crowns replace the missing teeth and do not slip around, making speech sound clearer. They fix your broken or discolored teeth, but mostly, they all lead to a more confident you.
If you would like more information about dental crowns, call Dr. Greg J. Herd in Rancho Santa Margarita, CA at 949-858-5147 or visit www.gregherddds.com.
Dr. Herd proudly serves Rancho Santa Margarita and all surrounding areas.