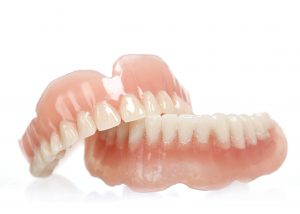 For some it's inevitable, for others it's by chance – no matter the reasoning behind it, getting dentures is a fact of life that some have to face. They may be a full set, or simply partials, but dentures aren't meant to throw your life into upheaval. It's going to be an adjustment, but after a while, you won't even notice the change. One of the biggest areas of change will be eating. You will likely be given instructions at the time to help you get going, but here are a few tips to get you through that adjustment period smoothly:
Take it slow. Since the first few days are the toughest, it is best to begin with a liquid diet. Choose purees and other soft foods that will help you learn how to begin to chew. Be careful of hot food and drink – because dentures are insulating your mouth, you won't be able to judge temperature the same way.
Break it down. When you're comfortable enough to try more solid foods, it is best to begin by cutting softer foods into tiny pieces. Once chewing, it is best to spread the food out evenly in your mouth to keep your dentures in place. Chew slowly and mindfully.
When the going gets tough. When eating foods like bread or grain cereal, you'll find that they stick to your dentures. Have a glass of something to help wash these foods down. When it comes to meat, it is best to choose poultry or fish over red meats, but stewed meats will be fine. Sticky or hard foods are best avoided until you are confident in your chewing ability.
If you would like more information about dentures, call Dr. Greg J. Herd in Rancho Santa Margarita, CA at 949-858-5147 or visit www.gregherddds.com.
Dr. Herd proudly serves Rancho Santa Margarita and all surrounding areas.